Former Gryphon leads campaign for more female soccer coaches
After more than two decades in the sport, AC Lang has never had a female coach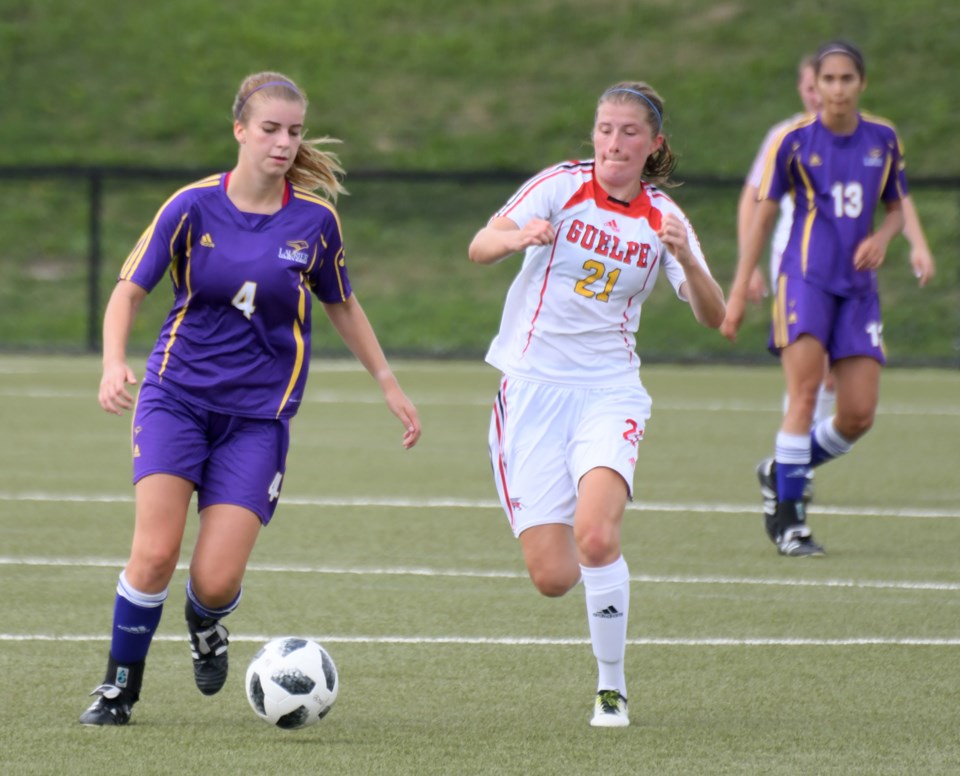 AC Lang, right, of the Guelph Gryphons gets set to knock the ball away from a Wilfrid Laurier Golden Hawks player during OUA women's play in 2018. Lang, who'll be a player/coach with Guelph Union of League1 Ontario, led a league advisory group that set the goal of getting more females into coaching roles in the league. Rob Massey file photo
Getting more women coaching in soccer became one of the League1 Ontario women's soccer league's player advisory group's goals after the league's 2020 season was canceled by the COVID-19 shutdown.
The group, led by Guelph Union's AC Lang, decided to tackle the subject of gender equity in the sport.
"There is a players' advisor group that the commissioner, Carmelina Moscato, created about a year and a half ago in fall, 2019," the 25-year-old Lang said. "She basically wanted to create a group where players could get together and discuss issues and help shape the direction of League1.
"When it became apparent that we wouldn't be playing last summer we decided that we wanted to focus our goals on something else and we decided that since many of us had had conversations around never having a female coach and the lack of gender equity that still exists within sport and soccer in particular, we wanted to set a goal to get more women coaching because we noticed that there just weren't enough."
Lang, a former University of Guelph women's varsity captain who played four seasons with the Gryphons, played in the Ontario Women's Soccer League with Guelph Soccer's Gryphons, a summer squad, and was also a member of L1O's North Mississauga Panther squad prior to moving to the Union when it was formed earlier this year.
One of the hurdles any would-be coach faces is the cost of Canada Soccer's C licence course and the advisory group thought they could help in that regard.
"We put together this fundraiser and I collaborated with my friend Mandela (Smith) who designed posters that we ended up selling," Lang said. "We ended up selling three different designs of posters and raising money that was to help pay for the coaching licenses because they're actually quite expensive. Back when we started they were about $1,200 per license. They've decreased the cost now since it's all online and it's about $800 and that's still quite a chunk of money for someone who's in university or even in high school.
"We ended up doing pretty well with the fundraiser. We raised a decent amount of money and Carmelina, the commissioner of the league, came in and got a (2020 OLY Canada Legacy Grant) because she's an Olympian. She had a grant and we paired that with our fundraiser and we were able to pay for around six to 10 licenses."
After a lot of persuasion from the advisory group, a partnership between Canada Soccer and the Canadian Premier League, the country's men's professional league, said it would help facilitate a course for 40 women to go along with a previously-announced decision to do the same for 40 men.
"We ended up engaging with some conversations with Canada Soccer around it and over time we were able to wear them down," Lang said. "They didn't immediately give us the 40, but over time we were able to convince them that it was a good idea to make this an equitable thing."
Then L1O received a donation from Dino Rossi, one the league's founders and now its executive chairman.
"He came in with a little bit of extra money as well so now we were able to stretch the money that we were able to raise through the fundraiser, the money that Carmelina gave us through that legacy grant and the money that Dino was able to pitch in and now we have 52 women who are able to do the C license," Lang said. "It was a long journey getting there, but we're really happy with the result because now there are going to be 50 more women coaches in Ontario. As we return to play, that's going to be a huge game changer to have more girls coached by women."
Lang has also signed on to be a player/coach with the Union when the league resumes play.
Born in Germany, Lang's family immigrated to Canada when she was seven, three years after her introduction to soccer. With the exception of a three-year return to Germany when Lang was in high school, the family's been here ever since.
With more than 20 years in the sport, Lang has never been on a team that had a female head coach.
"I had very strong female role models and I've had very strong relationships with females in sport."
She counts Moscato and Guelph Soccer's executive director Sara Orrell among them and credits Orrell with "nudging" her toward coaching.
Lang has seen the effect female coaches can have on young female players.
"Me and some of my (Gryphon) teammates coached a house league team two summers ago now and it's just so evident the relationship that the girls were able to build with us, how excited they were that we were there," she said. "It was just very clear to me how important it is for girls to have role models and especially role models that they can relate to."
Lang also feels that having girls coached by women might also keep more females in the sport.
"In sport for girls we have a participation problem starting in their teens," Lang said. "We have three areas where girls start dropping out of sports. That would be early teens, late teens and then post-university. I'm falling very nicely into that last gap, but trying not to quit as much as I can. I think if we had more female coaches, we wouldn't lose as many players throughout those years because those players were able to see themselves in roles beyond just playing and that's really important."
As for the Union, Lang will serve as a player/coach with head coach Onkar Dhillon. He was a coach at North Mississauga and an assistant coach with the Gryphons under head coach Shayne Campbell who is a technical advisor for Guelph Soccer and director of football for Guelph Union.
And like every other athlete whose sport has been on pause for more than a year now,
Lang can't wait to hit the field with the Union.
"It feels devastating to not do the thing that has been an outlet for me my whole life," she said. "Whenever things got tough, I could always go to the field and play soccer with my friends and kind of escape for a little bit and that's been gone. That's been missing for the last year and a half and it's been really hard. I think most people can relate to that because most people have lost something that was a similar outlet to them.
"It's been difficult, but on the flip side of that, that makes my excitement to return to the field even bigger because I know I'll appreciate it that much more. We're really looking forward to even being able to do contact-less training at this point. I'm all in. Let's do it."